Valentin Yudashkin Gold Collection No.5
artikelnummer : 86077
afmeting behangrol : 10.0mtr x 106cm breed
patroon : 40cm
materiaal : harde vinyl relief toplaag met vlies achterzijde
verwerking : muur inlijmen
lijmadvies : vlieslijm gratis meegeleverd
levertijd : ongeveer 2 weken
LET OP :
Dit behang wordt speciaal voor je besteld en kan niet retour, ook teveel bestelde rollen kunnen niet retour !
---
Valentin Yudashkin is de beroemdste Russische ontwerper. Zijn werken worden tentoongesteld in het Louvre, in het Californian Museum of Fashion, in het State Historical Museum in Moskou, in het International Museum of Olympic Games en in het Metropolitan Museum of Art in New York.
Een kenmerk van de succesvolle modecreatie's van Valentin Yudashkin is de toepassing van het edele metaal goud in zijn ontwerpen.
Licht, luxe en pracht horen bij Valentin Yudashkin en deze drie basisprincipes zijn ook toegepast in de ontwerpen van zijn behangcollectie's.
---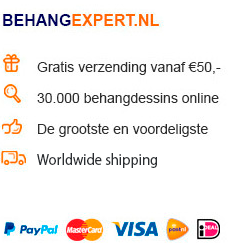 | Specificatie | Omschrijving |
| --- | --- |
| behang naar thema | barok |
| kleur | grijs |
| merk | Dutch Wallcoverings |
| behangsoort | struktuur behang |